Posted by wytchcroft, Jul 15 2008, 11:42 PM
ah 'face culture' - love that l'il dutch site!:)

i dunno, it's a little shallow but something about face culture is so cute, it's very - uh, clean.

has a whole host of video interviews with bands-a-plenty being asked the same questions in a friendly neutral tone and it's funny -

track half way round the world and i bump into The Kills and - pow! - memories of the putney bus, fire escapes - parties, london in the 80s, tut tut, and a chance to tease the aether on behalf of corinne day (give it up for the big love).

well that was one side of things anyway.

so - then an interview with tori amos and she lives in cornwall huh? - oh yes, been there too. there are coves with pieces of me left behind - there are trees with the name of my departed childhood etched deep into the bark.

so - i've nearly forgotten the last insomniac 48 hrs of internet hell chasing hackers and clones and deleting messages supposedly by me.

wytchcroft nearing the end of the project - readies for a transformation...

into what?

from a caterpillar to a - Mothra, i hope - controlled by two tiny grrrls inside a flower.
that'll do nicely. cheers.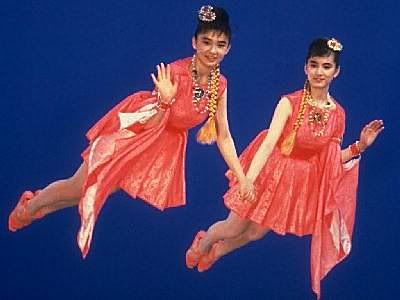 current music:
1) aimee mann - @#%&*! smilers (go buy it NOW at aimeemann.com)
2) vanessa peters - fireworks @ desmet